30 Jul

Posted By
0 Comment(s)
144 View(s)
Arduino
Nicla Vision
The Arduino® Nicla Vision is a ready-to-use, standalone camera for analyzing and processing images on the edge. Thanks to its 2 MP color camera, smart 6-axis motion sensor, integrated microphone and distance sensor, it is suitable for asset tracking, object recognition and predictive maintenance. Quickly implement sensor nodes to send collected data to the Arduino® Cloud (or third-party vendor services) via integrated Wi-Fi®/Bluetooth® LE connectivity.
Target Areas Wireless sensor networks, data fusion, artificial intelligence, machine vision
Features
STM32H747AII6 Microcontroller Dual-core
32-bit Arm® Cortex®-M7 core with double-precision FPU and L1 cache up to 480 MHz
32-bit Arm® 32-bit Cortex®-M4 core with FPU up to 240 MHz
Full set of DSP instructions
Memory Protection Unit (MPU)
Murata® 1DX Wi-Fi/BT Module
Wi-Fi 802.11b/g/n 65 Mbps
Bluetooth 4.2 BR/EDR/LE
MAX17262REWL+T Fuel Gauge
Implements ModelGauge m5 EZ for battery monitoring
Low 5.2 μA Operating Current
No Calibration Required
NXP® SE050C2 Crypto
Common Criteria EAL 6+ certified up to OS level
RSA & ECC functionalities, high key length and future proof curves, such as brainpool, Edwards, and Montgomery
AES & 3DES encryption and decryption
HMAC, CMAC, SHA-1, SHA-224/256/384/512 operations
HKDF, MIFARE® KDF, PRF (TLS-PSK)
Support of main TPM functionalities
Secured flash user memory up to 50 kB
SCP03 (bus encryption and encrypted credential injection on applet and platform level)
VL53L1CBV0FY/1 Time-of-Flight Sensor
Fully integrated miniature module
940 nm invisible laser (VCSEL) emitter
Receiving array with integrated lens
400 cm detection with a full field of view (FoV)
MP34DT06JTR Microphone
AOP = 122.5 dBSPL
64 dB signal-to-noise ratio
Omnidirectional sensitivity
–26 dBFS ± 1 dB sensitivity
GC2145 Camera
2 Megapixel CMOS Camera
on-chip 10-bit ADC
1.75 μm pixel size
Focal length: 2.2 mm
F-value: 2.2 ± 5%
View angle: 80°
Distortion: < 1.0%
LSM6DSOX 6-axis IMU
Always-on 3D accelerometer and 3D gyroscope
Smart FIFO up to 4 kByte
±2/±4/±8/±16 g full scale
±125/±250/±500/±1000/±2000 dps full scale
USB3320C-EZK-TR USB Transceiver
Integrated ESD Protection circuit (up to ±15kV IEC Air Discharge)
AT25QL128A-UUE-T 16 MB Flash
MC34PF1550A0EP Power Management IC

Application Examples:
The Arduino® Nicla Vision houses the computational power, camera and IMU you need to quickly develop machine vision solutions at the edge together with two wireless technologies. The board can act as a field-ready standalone board or can be augmented with external peripherals through the I/O available on the chip. Ultra-low power consumption and integrated battery management allow for deployment in various capabilities. WebBLE allows for easy OTA updates to the firmware as well as remote monitoring.
Warehouse & Automated Inventory Management: The Arduino Nicla Vision is capable of detecting packages as they come near its vicinity and wake up. These provide the benefits of an always-on camera, but with less power consumption. It can take pictures, predict volume/weight and also analyse for possible defects. Additionally, QR codes on the package can be tracked for automated pursuit of the package and relay of information to the cloud.
Real-time process management: The Arduino Nicla Vision is equipped for Automated Optical Inspection (AOI) even in hard-to-reach and hazardous areas thanks to the small footprint and wireless connectivity options. The fast Time-of-Flight sensor ensures that the image acquisition is performed in a repeatable manner, with minimal modifications to the process. Additionally, the IMU can provide vibration analysis for predictive maintenance.
Wireless Sensor Network Reference Design: The Nicla form factor has been specifically developed at Arduino® as a standard for wireless sensor networks which can be adapted by partners to develop customdesigned industrial solutions. Researchers and educators can use this platform to work on an industriallyrecognized standard for wireless sensor research and development that can shorten the time from concept to market.
Assembly Overview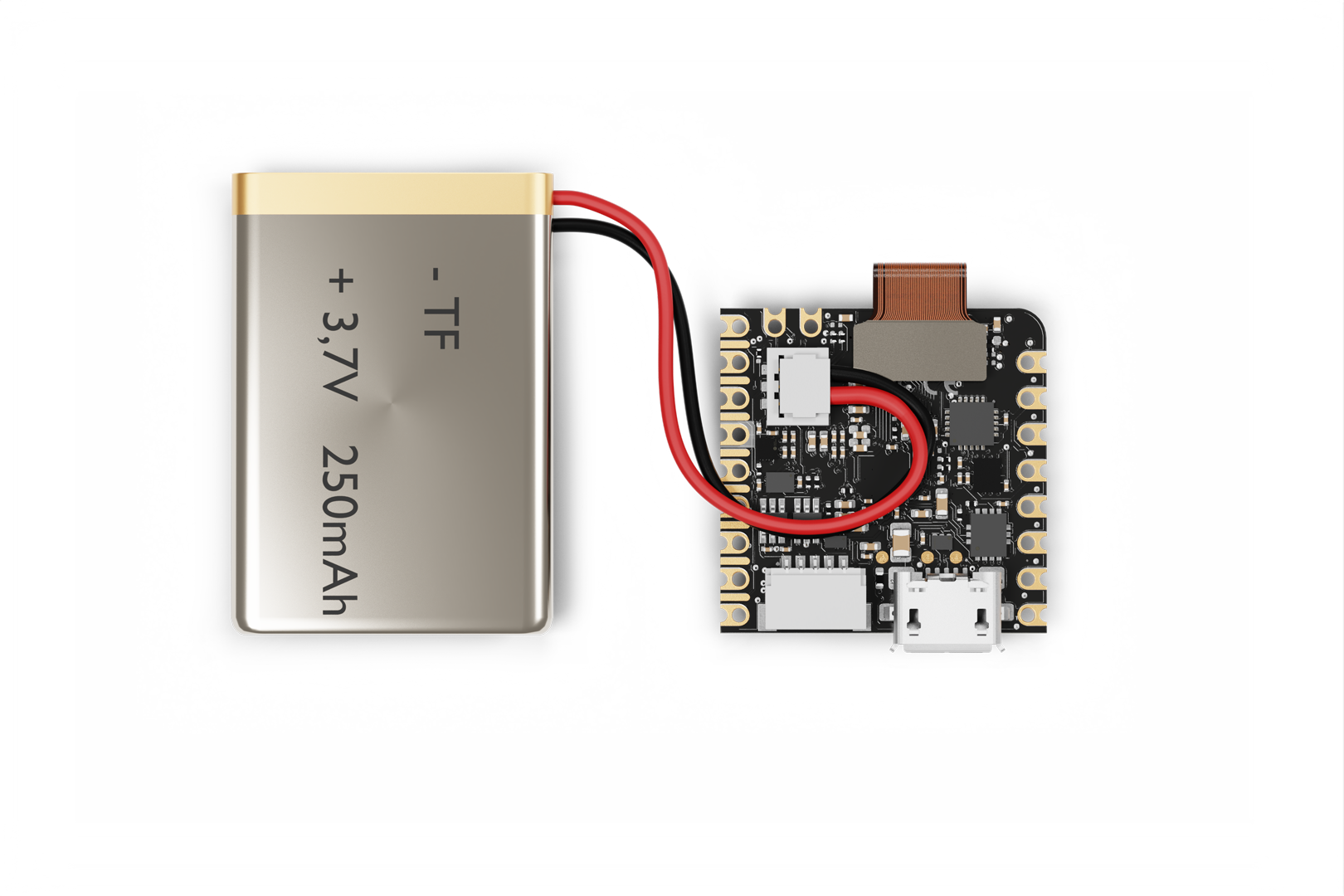 Block Diagram

Board Topology


Processor
The Nicla Vision's main processor is the dual-core STM32H747 (U1) including a Cortex® M7 running at 480 MHz and a Cortex® M4 running at 240 MHz. The two cores communicate via a Remote Procedure Call mechanism that allows calling functions on the other processor seamlessly.
6-Axis IMU
It is possible to obtain 3D gyroscope and 3D accelerometer data from the LSM6DSOX 6-axis IMU (U3). In addition to providing such data, it is also possible to do machine learning on the IMU for gesture detection, offloading computation load from the main processor.
Wi-Fi/Bluetooth® Connectivity
The Murata® LBEE5KL1DX-883 wireless module (U9) simultaneously provides Wi-Fi and Bluetooth® connectivity in an ultra-small package based on the Cypress CYW4343W. The IEEE802.11 b/g/n Wi-Fi® interface can be operated as an access point (AP), station (STA) or dual-mode simultaneous AP/STA. It supports a maximum transfer rate of 65 Mbps. Bluetooth® interface supports Bluetooth Classic and BLE. An integrated antenna circuitry switch allows a single external antenna (J6) to be shared between Wi-Fi and Bluetooth®.
Crypto Capabilities
The Arduino® Nicla Vision enables IC level edge-to-cloud security capability through the NXP SE050C2 Crypto chip (U8). This provides Common Criteria EAL 6+ security certification up to OS level, as well as RSA/ECC cryptographic algorithm support and credential storage.
Time of Flight Sensor
The VL53L1CBV0FY Time-of-Flight sensor (U4) adds accurate and low power ranging capabilities to the Arduino® Nicla Vision. The invisible near infrared VCSEL laser (including the analog driver) is encapsulated together with receiving optics in an all-in-one small module located below the camera.
Digital Microphones
The MP34DT05 digital MEMS microphone is omnidirectional and operates via a capacitive sensing element with a high (64 dB) signal-to-noise ratio. The sensing element, capable of detecting acoustic waves, is manufactured using a specialized silicon micromachining process dedicated to producing audio sensors.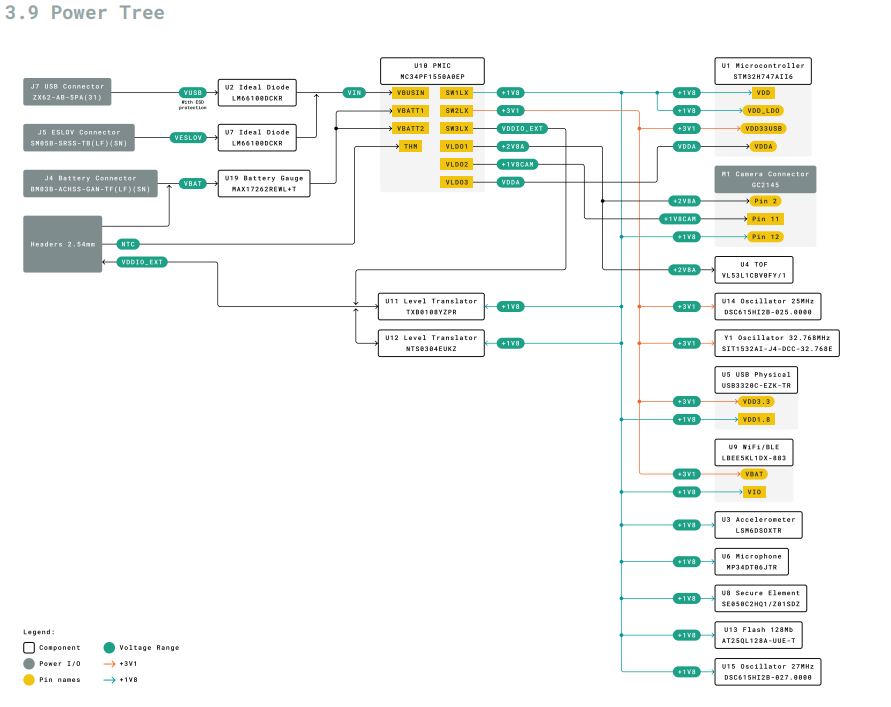 Input voltage can be provided to the Nicla Vision through the USB connector (J7), the ESLOV connector (J5), the battery connector (J4) or alternatively the headers. The USB connector is prioritized over the ESLOV connector, both of which are prioritized over the battery connector and header. Reverse polarity protection for the USB connector (J7) and the ESLOV connector (J5) are provided by ideal diodes U2 and U7 respectively. Input voltage from the battery does NOT have reverse polarity protection and the user is responsible for respecting the polarity. An NTC (negative thermal coefficient) sensor provides overtemperature shutoff to the battery. The battery fuel gauge provides an indication of the remaining battery capacity.
There are three main power lines provided:
+3V1 provides power to the microprocessor (U1), 25 MHz oscillator (U14), 32.768 MHz oscillator (Y1), USB transceiver (U5) and Wi-Fi/Bluetooth module.
+2V8A provides power to the camera (M1) and time-of-flight sensor (U4)
+1V8 provides power to the microprocessor (U1), camera (M1), USB transceiver (U5), Wi-Fi/Bluetooth module (U9), accelerometer (U3), microphone (U6), crypto (U8), FLASH (U13), 27 MHz oscillator (U15) as well as the two level translators (U11, U12).
Additionally, a dedicated analog supply rail (VDDA) is provided for the microcontroller (U1). The camera module (M1) also has a dedicated power rail (+1V8CAM).
Board Operation:
Getting Started - IDE
If you want to program your Arduino® Nicla Vision while offline you need to install the Arduino® Desktop IDE [1] To connect the Arduino® Vision to your computer, you'll need a micro USB cable. This also provides power to the board, as indicated by the LED.
Getting Started - Arduino Web Editor
All Arduino® boards, including this one, work out-of-the-box on the Arduino® Web Editor [2], by just installing a simple plugin.
The Arduino® Web Editor is hosted online, therefore it will always be up-to-date with the latest features and support for all boards. Follow [3] to start coding on the browser and upload your sketches onto your board.
Getting Started - Arduino Cloud
All Arduino® IoT enabled products are supported on Arduino® Cloud which allows you to log, graph and analyze sensor data, trigger events, and automate your home or business.
Getting Started - WebBLE
The Arduino Nicla Vision provides the capability for OTA updates to the STM32 microcontroller using WebBLE.
Getting Started - ESLOV
This board can act as a secondary to an ESLOV controller and have the firmware updated through this method.
Sample Sketches
Sample sketches for the Arduino® Nicla Vision can be found either in the "Examples" menu in the Arduino® IDE or on the Arduino® documentation website
Online Resources
Now that you have gone through the basics of what you can do with the board you can explore the endless possibilities it provides by checking exciting projects on ProjectHub [5], the Arduino® Library Reference [6] and the online store [7] where you will be able to complement your board with sensors, actuators and more.
Board Recovery
All Arduino® boards have a built-in bootloader which allows flashing the board via USB. In case a sketch locks up the processor and the board is not reachable anymore via USB it is possible to enter bootloader mode by doubletapping the reset button right after power up.
Connector Pinouts
Note 1: All the pins on J1 and J2 (excluding fins) are referenced to the VDDIO_EXT voltage which can be generated internally or supplied externally. Note 2: I2C1 is connected to the level translator U12 which has internal 10k pullups. R9 and R10 pullup resistors are not mounted on the board.